Hosting The Unexpected Moments With Heineken® 0.0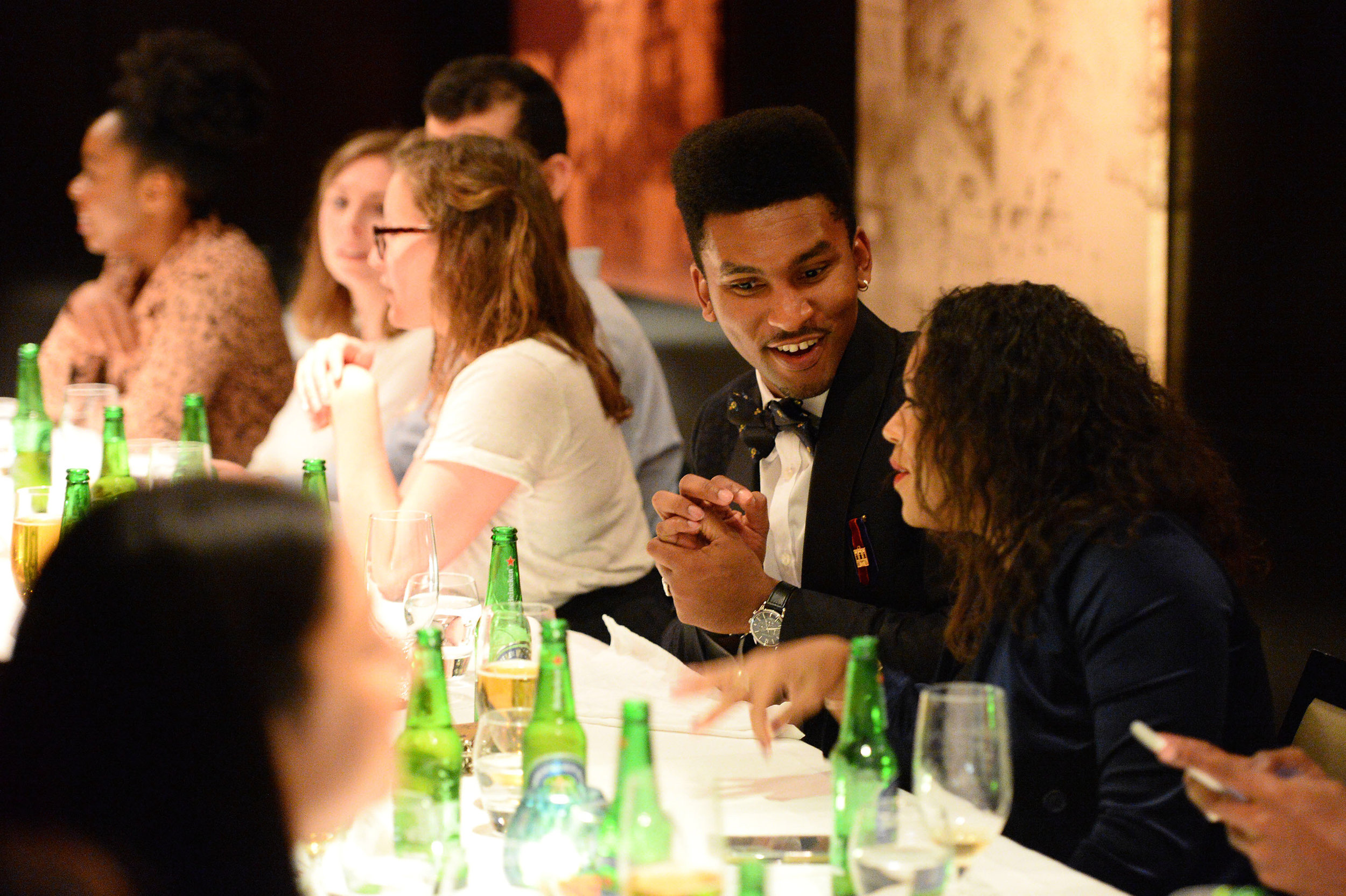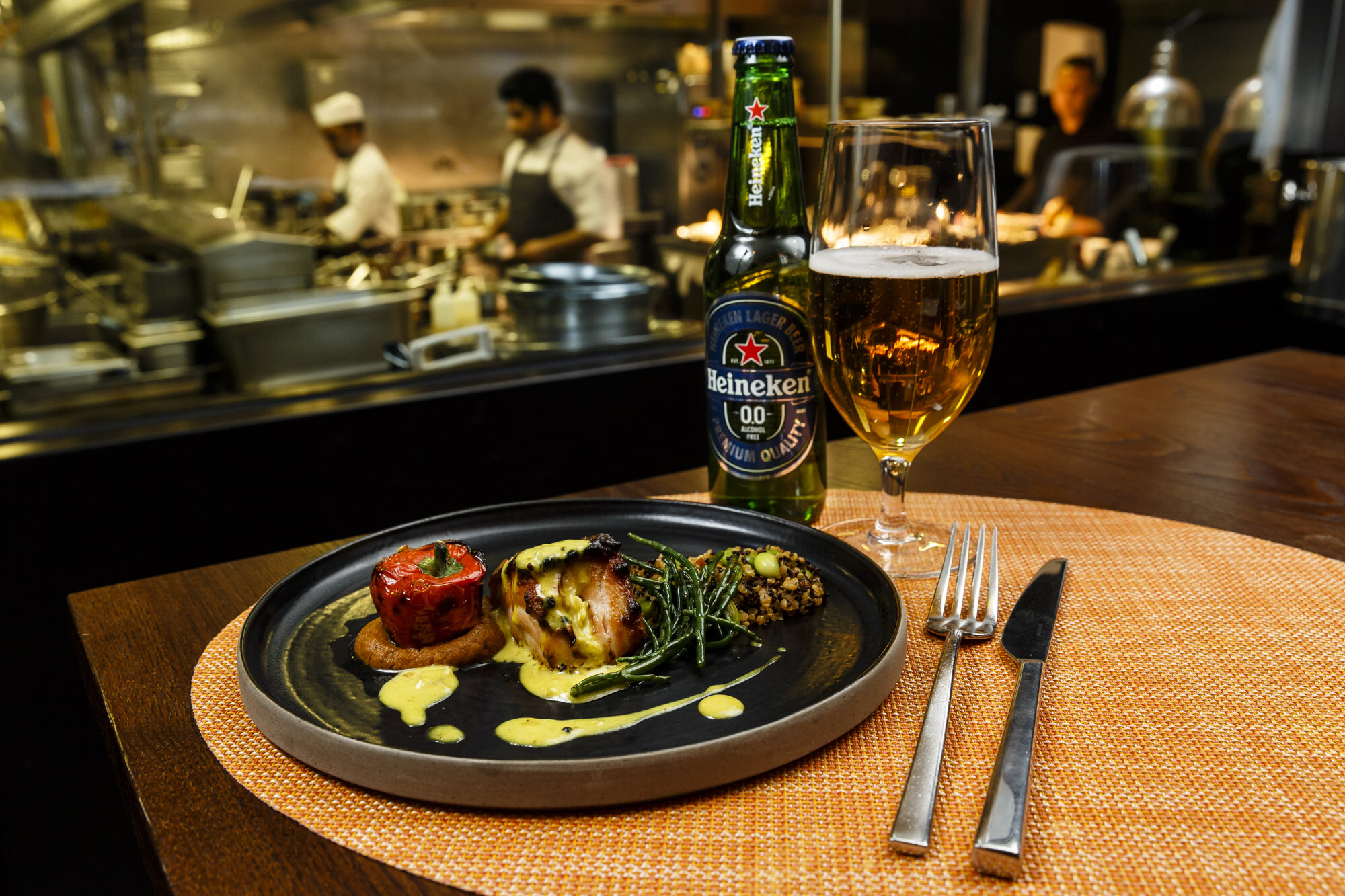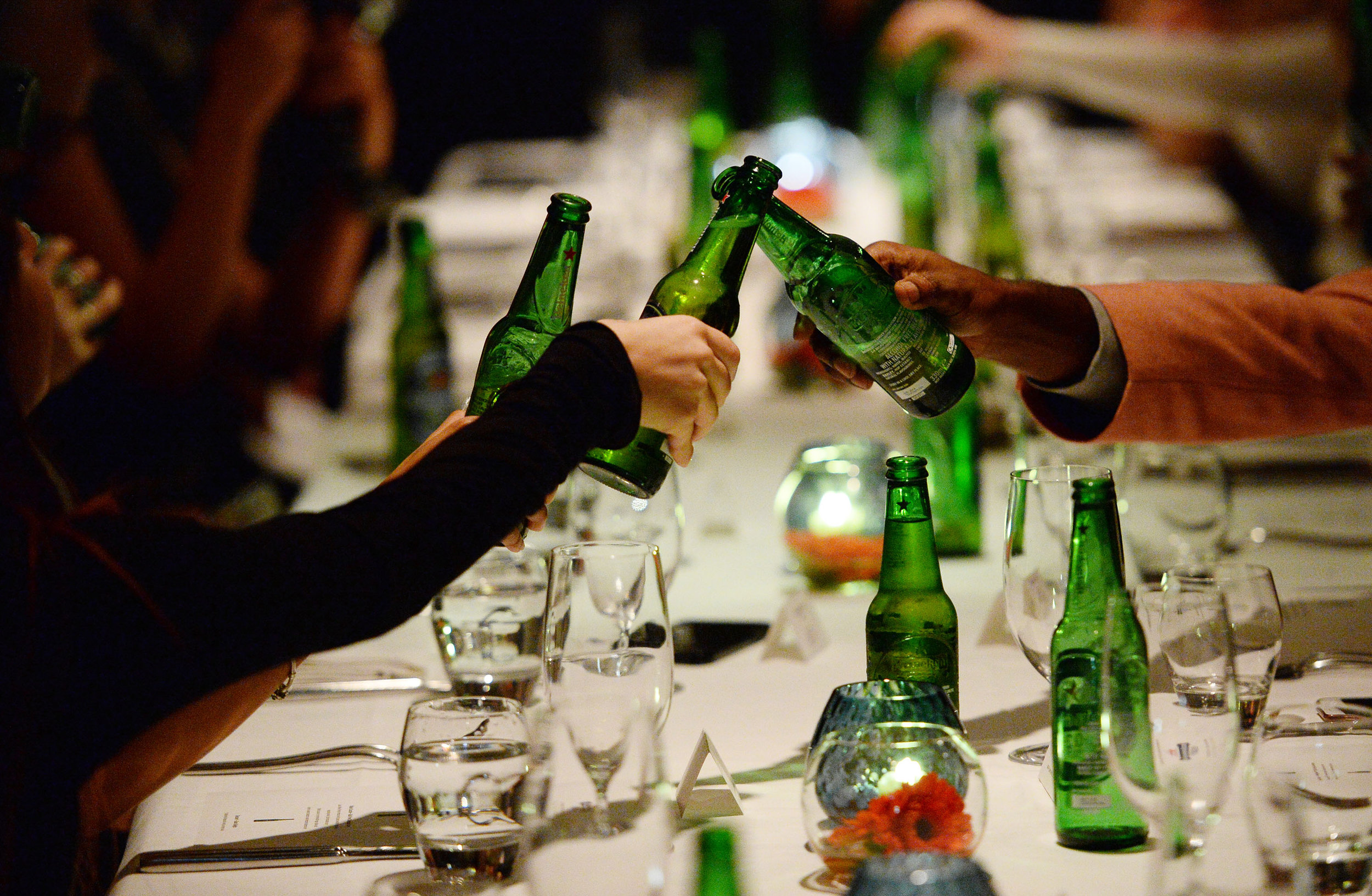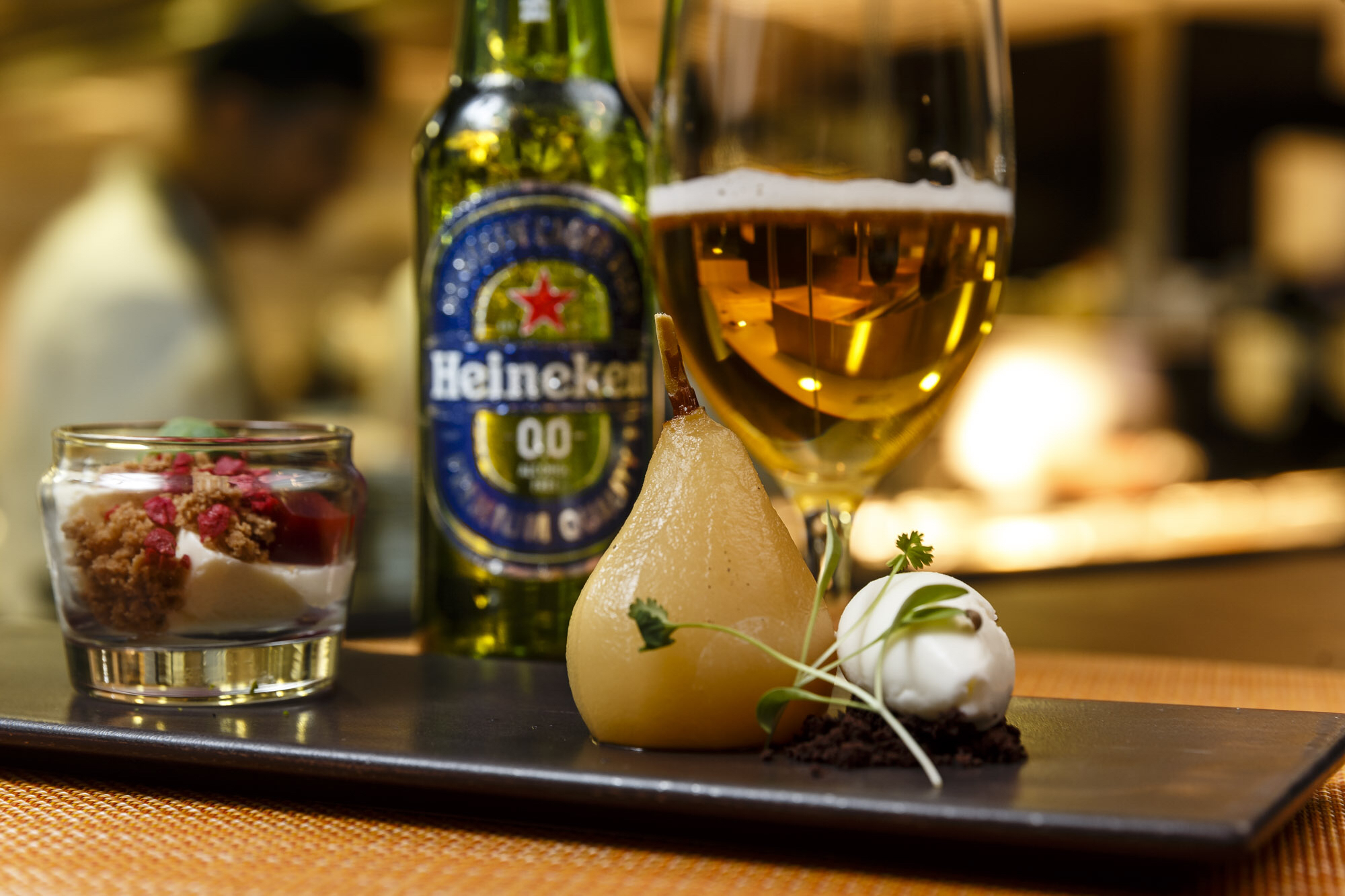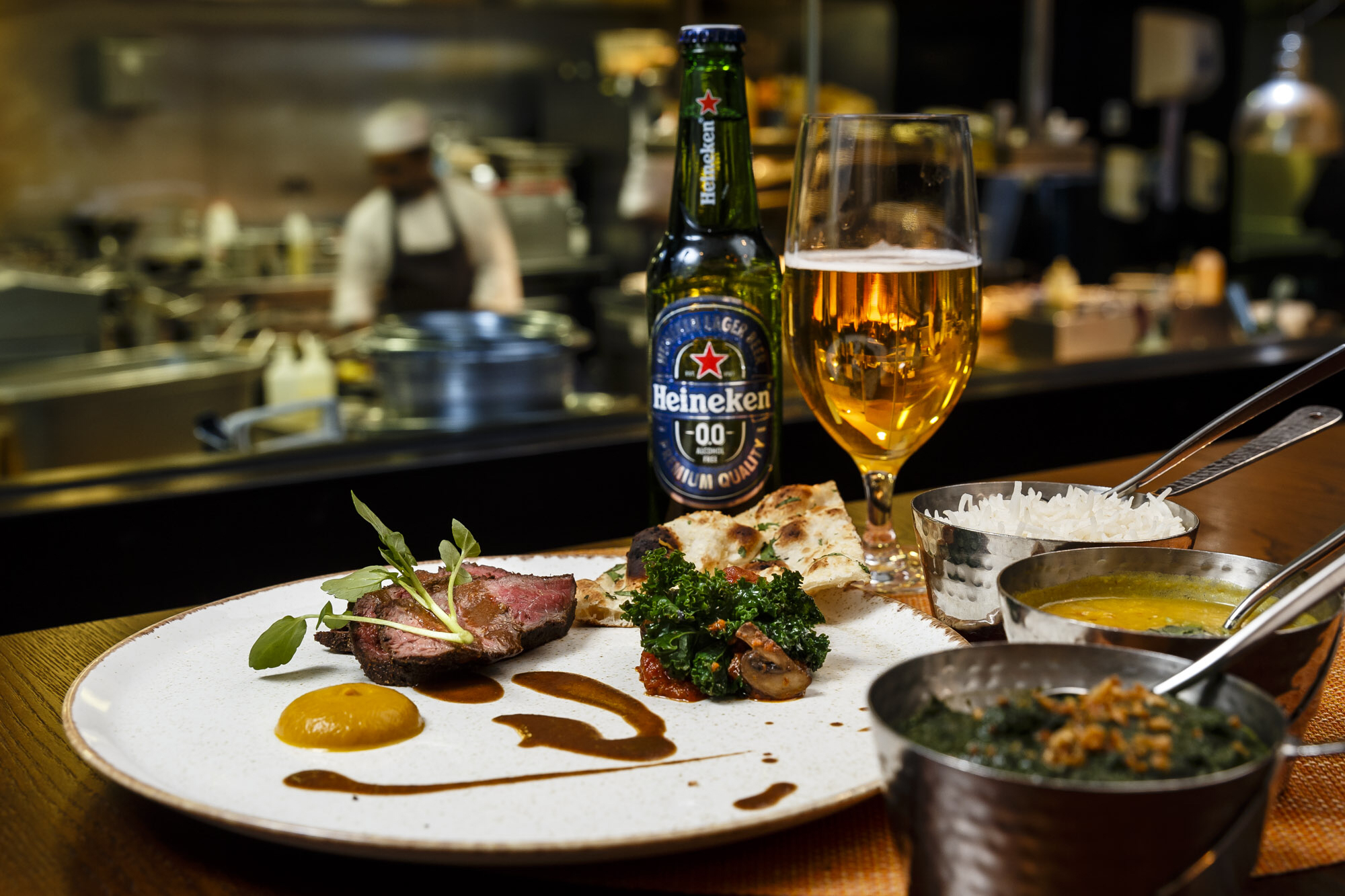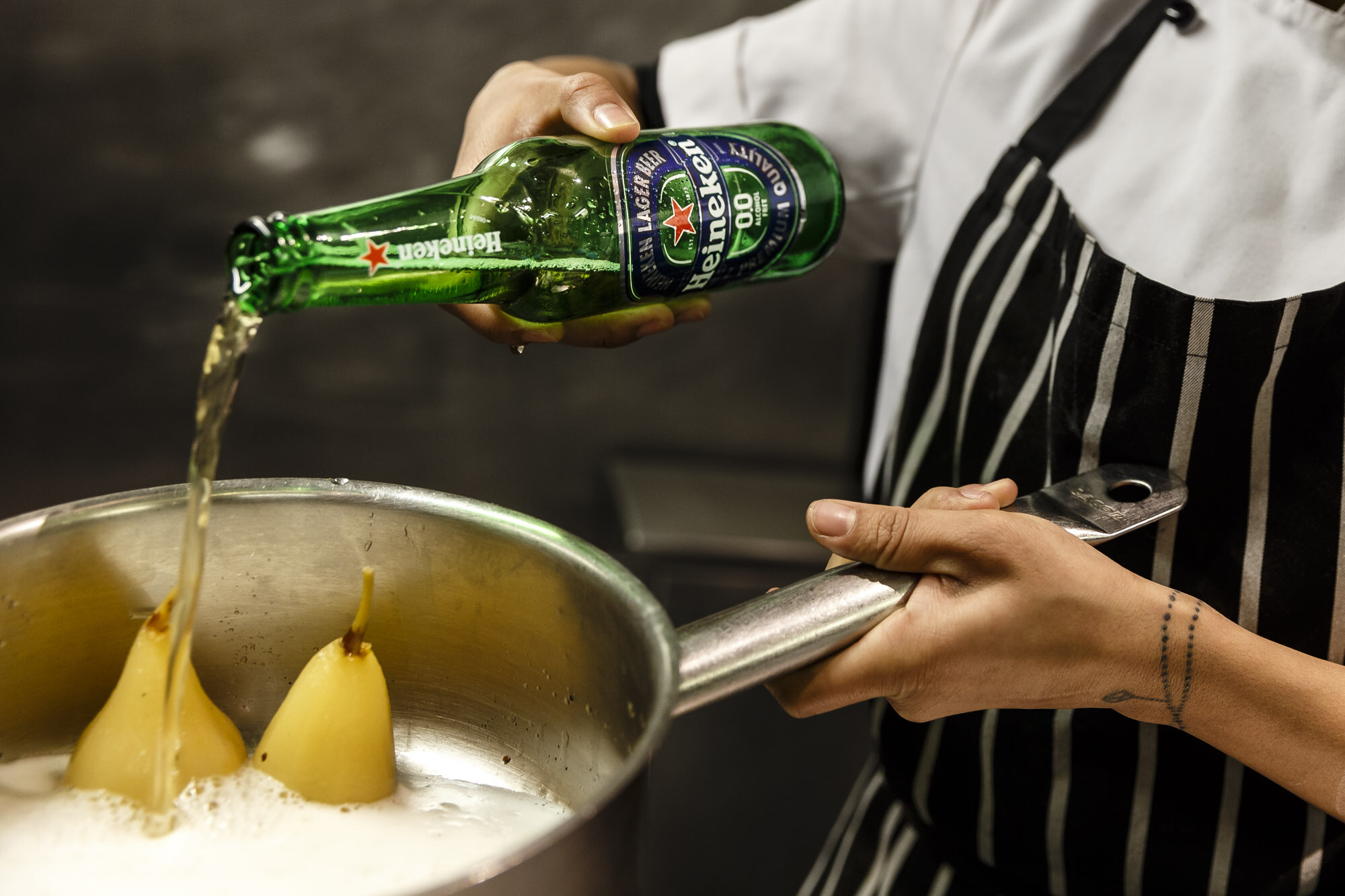 I had the pleasure of hosting the unexpected dinner party with Heineken® 0.0 at Benares restaurant in Mayfair. I was treated to a taste sensation from two Michelin starred chef Atul Kochhar, who curated healthy alternative dishes paired with the refreshing alcohol-free beer. I love a curry and a beer, but equally, I like to lead a balanced lifestyle all year round and this is exactly what the evening offered.
The night started off amazingly as I had the rare opportunity to interview chef Atul during the middle of his dinner service. While the chefs rushed around us, and the scent of fresh spices filled the kitchen, we spoke about why Heineken® 0.0 is his current beer of choice with its amazing taste and being alcohol-free for January and the foreseeable future! As guests arrived we cracked open the Heineken® 0.0s, conversation flowed and never stopped from there.
The co-created menu started with a beer cured salmon, guilt-free chocolate curry with epic sides and finished with an Indian style, healthy panna cotta 'Goan Delight' - all perfectly partnered
with a Heineken® 0.0.
I will be back in the kitchen cooking up these amazing dishes for my own dinner party guests to experience and I encourage you to do so too – not sure how much credit I will give a Michelin starred dish…. But knowing that it is a healthy evening and at only 69 calories a bottle, Heineken® 0.0 really is the perfect beer for you to enjoy when you want the taste of a great beer but not the alcohol.
What's more, I've got the recipes for you to re-create at home – cheers to that! All recipes below are to create an unexpected dinner party with Heineken® 0.0 for four people enjoy!
RECIPES
This post was sponsored by Heineken®0.0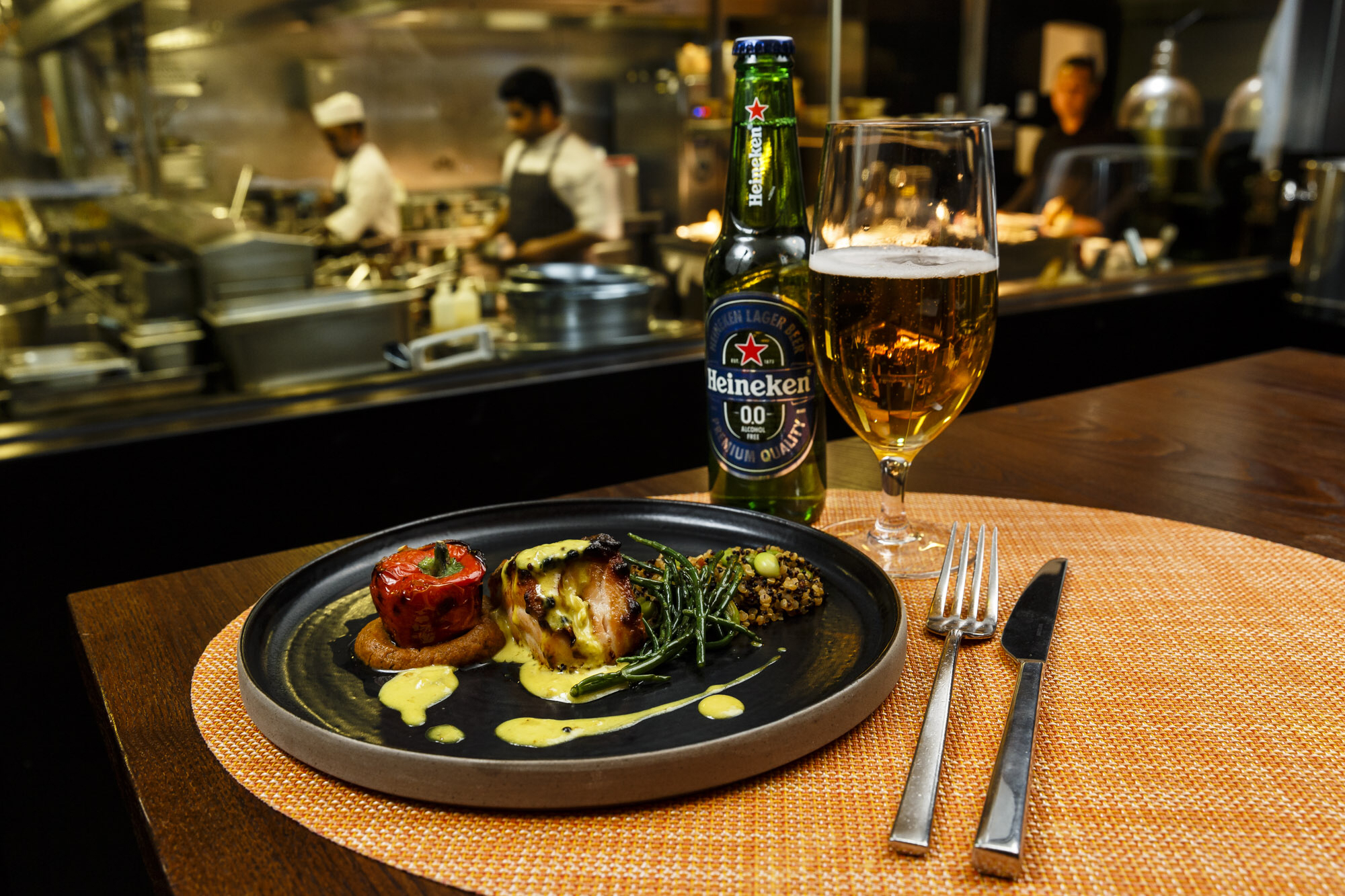 Appetiser - Heineken® 0.0 Cured Salmon
Appetiser Recipe & Ingredients
Spiced black and white quinoa
50g black quinoa
50g white quinoa
25g edamame beans
10g chop onion
10g chop tomato
20g olive oil
3g whole cumin
Salt to taste
600g Scottish salmon
2 x bottles of Heineken 0.0
Coconut Marination
100g Maggi coconut powder
100ml coconut milk
3g green chilli paste
10g ginger garlic paste
2g mustard seed
3g roasted gram dal powder
20 curry leaves
Olive oil-20ml
Salt to taste
Moilee Gravy
1 tbsp. coconut oil
6 ea. green chillies, slit lengthways
3 ea. garlic cloves, thinly sliced
2 ea. medium onions or large shallots, thinly sliced
½ tsp black mustard seeds
1 ea. all knob of fresh ginger, peeled and cut into julienne sticks
10 ea. curry leaves
½ tsp ground turmeric
400ml coconut milk
Salt to taste
Method
1. Marinate salmon in Heineken® 0.0 for 2 hours
2. For the Moilee Gravy melt the coconut oil in a frying pan, add the chillies, garlic, onions, ginger and mustard seeds, and sauté over medium heat until the seeds crackle. Add the curry leaves and continue sautéing for 3–5 minutes until the onion is translucent. Add the turmeric and salt to taste, pour in the coconut milk and simmer, uncovered, very gently for 10 minutes, or until the sauce thickens slightly. Adjust the seasoning, if necessary. Remove the pan from the heat and set aside until required.
3. Boil black and white quinoa separately and tempered with cumin and onion tomato and salt. Mix edamame beans in at the last minute before serving.
3. For the coconut, marination takes all of the ingredients listed in a mixing bowl. Mix together to form a layer that you will pat gently on top of the salmon. Place the salmon under the grill and cook for 5-6 minutes.
4. For the kidney bean stuffed pepper, temper the red kidney bean with all powder spices and whole cumin. Allow the mixture to cool and stuff in the pepper. Cook the peppers over a gas flame or grill until they are slightly charred.
5. Layer the grilled salmon on to the plate and place the quinoa and edamame mix in the dish. Place the grilled stuffed pepper on the other side of the plate and drizzle the moilee sauce over the salmon. Serve immediately.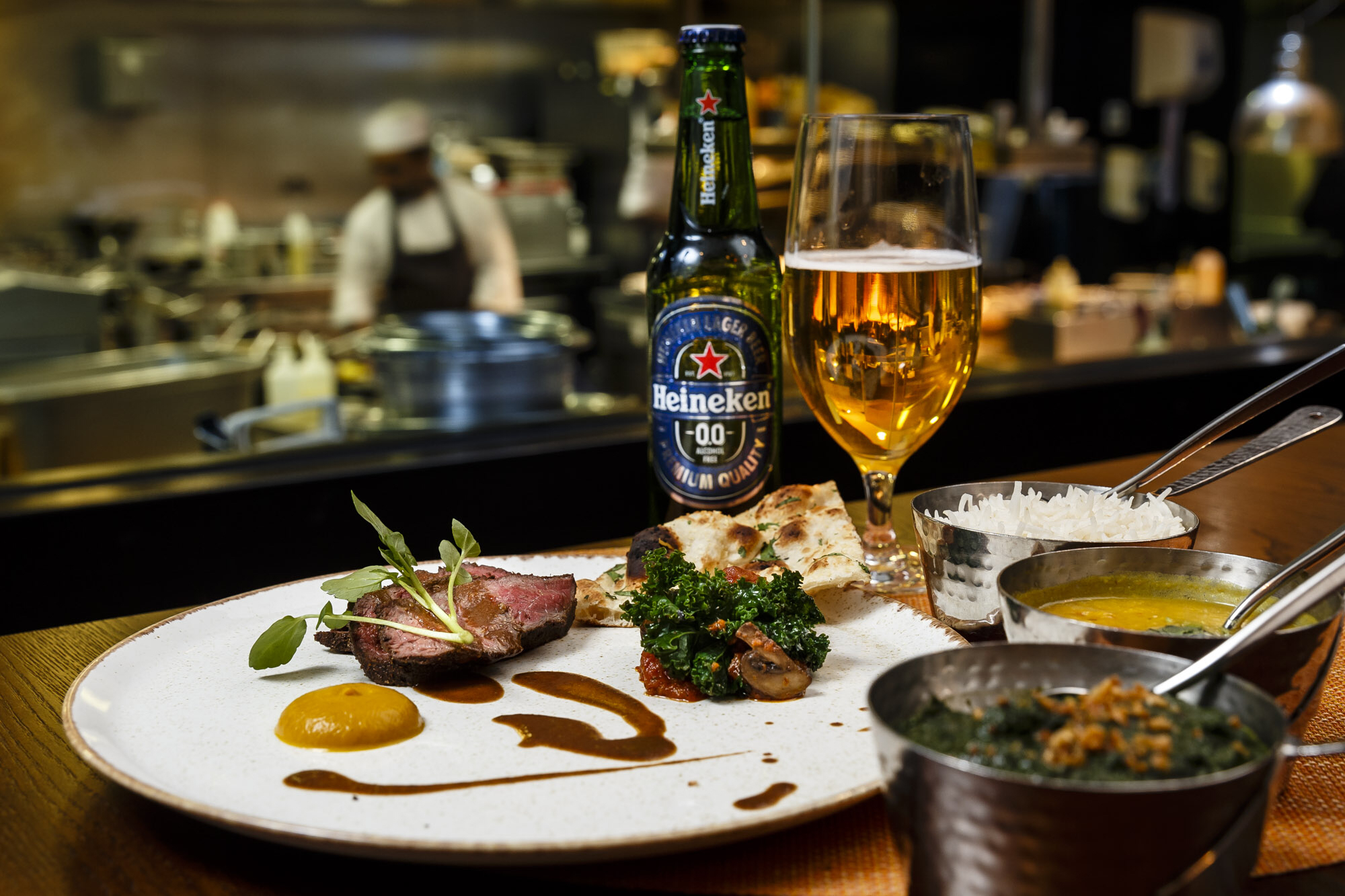 Main Course -
Guilt-free Chocolate Curry
Main Course Recipe & Ingredients
Chocolate Sauce
400g white onion
150g chopped tomato
200ml deer stock / alternative meat stock
55g coriander seeds
10g cumin seeds
20g ginger garlic paste
100ml olive oil
70g 70% dark organic chocolate
10g garam masala
10g turmeric powder
Salt to taste
Rice
200g basmati rice
Salt to taste
Venison recipe (can be substituted for another piece of lean meat)
4 deer fillets
2tbsp garam masala
1tsp coriander powder
2tsp olive oil
30g blanched kale
100g chestnut mushroom
Salt to taste
Naan Bread
1/2 tablespoon dried yeast
1/2 teaspoon sugar
125ml milk, warm
122g strong white flour
122g whole wheat flour
1 teaspoons sea salt
1 tablespoons plain yoghurt
22g butter, melted
1 tablespoons poppy seeds, (optional)
1/2 tablespoon sesame seeds, (optional)
Yellow Dal
300g yellow pea split peas or chana lentils
1 tsp salt
1 tsp turmeric
1 tbs vegetable oil
1 tsp finely chopped garlic
1 tsp red chilli powder
2 medium tomatoes, chopped
1 tsp chopped coriander leaves
Method for venison curry
1. For the venison haunch steaks, toast the whole spices in a dry frying pan over a medium heat, stirring, until aromatic, then use a spice grinder to grind to a fine powder. Sift the powder through a fine sieve. Place the spice powder on to a plate and roll the venison steaks until they are covered, then set aside.
2. For the chocolate curry, heat the oil in a saucepan, add the onions and sauté over a medium heat for 3–5 minutes until translucent. Add the garlic, bay leaf and ginger, and sauté for a further 1–2 minutes until the garlic is softened. Stir in the ground coriander, chilli powder, turmeric and cinnamon, and stir for 1 minute. Remove the bay leaf, transfer the mixture to a blender and blitz until a fine paste form. Add 200ml of the venison/alternative meat stock. Simmer for 15 minutes. After 15 minutes add the organic chocolate and remove from the heat. Stir until chocolate is dissolved.
3. To cook the venison, heat oil in a non-stick frying pan and sear on each side. Place the haunch of venison on a roasting tray and keep in a pre-heated oven for 5 minutes at 170. Remove and rest for 5 minutes before serving.
4. Make a stir-fry by a heating tablespoon of olive oil in a wok with blanched green kale and chestnut mushroom and little kadhai masala / 1 teaspoon of garam masala and 1 teaspoon of chopped garlic, onion and tomato. Add lemon juice and salt to taste.
5. To serve, slice the venison steak and accompany with stir-fry vegetable and chocolate sauce. Serve rice and dal in separate serving bowls.
Method for yellow dal
1. Put the lentils, salt and turmeric into a thick-bottom pan with a litre of water. Simmer for 15-20 minutes until the lentils are soft and cooked.
2. In a sauté pan, heat the oil and fry the garlic to a light brown colour, add the red chilli powder, sauté for a minute. Add the tomatoes and cook for 3-4 minutes, then add the cooked lentils and simmer for 10-15 minutes. Sprinkle with chopped coriander leaves and serve hot.
Method for naan bread
1. Stir the yeast and sugar into the warm milk and set aside for 20 minutes, or until frothy. Sift our and salt into a mixing bowl, then add the yoghurt, 2 tablespoons of the melted butter and the yeast mixture.
2. Mix together to make a soft dough, then turn out on to a floured work surface and knead for 8–10 minutes until smooth and elastic. Return to the bowl and leave in a warm place, covered with a damp cloth, for 1–2 hours, or until doubled in size.
3. Divide the dough into 8 pieces, then shape them into balls and leave to rest in a warm place for 10 minutes. Roll out each ball into a circle and then pull out one side to make a teardrop shape. Meanwhile, preheat the oven to 220°C.
4. Mix the poppy and sesame seeds, if using. Brush the remaining melted butter and the naans and sprinkle with the seeds. Place on baking sheets and bake for 5–7 minutes until brown specks appear on the surface. If the bread is not brown enough, put them under a preheated grill for a minute or so.
Method for rice
1. Tip the rice into a sieve and rinse under the cold tap until the water runs clear. Transfer to a saucepan with water to cover by 2.5cm and salt to taste. Bring to the boil, then boil for 5–8 minutes until tender. Drain well and keep warm until required, or serve immediately.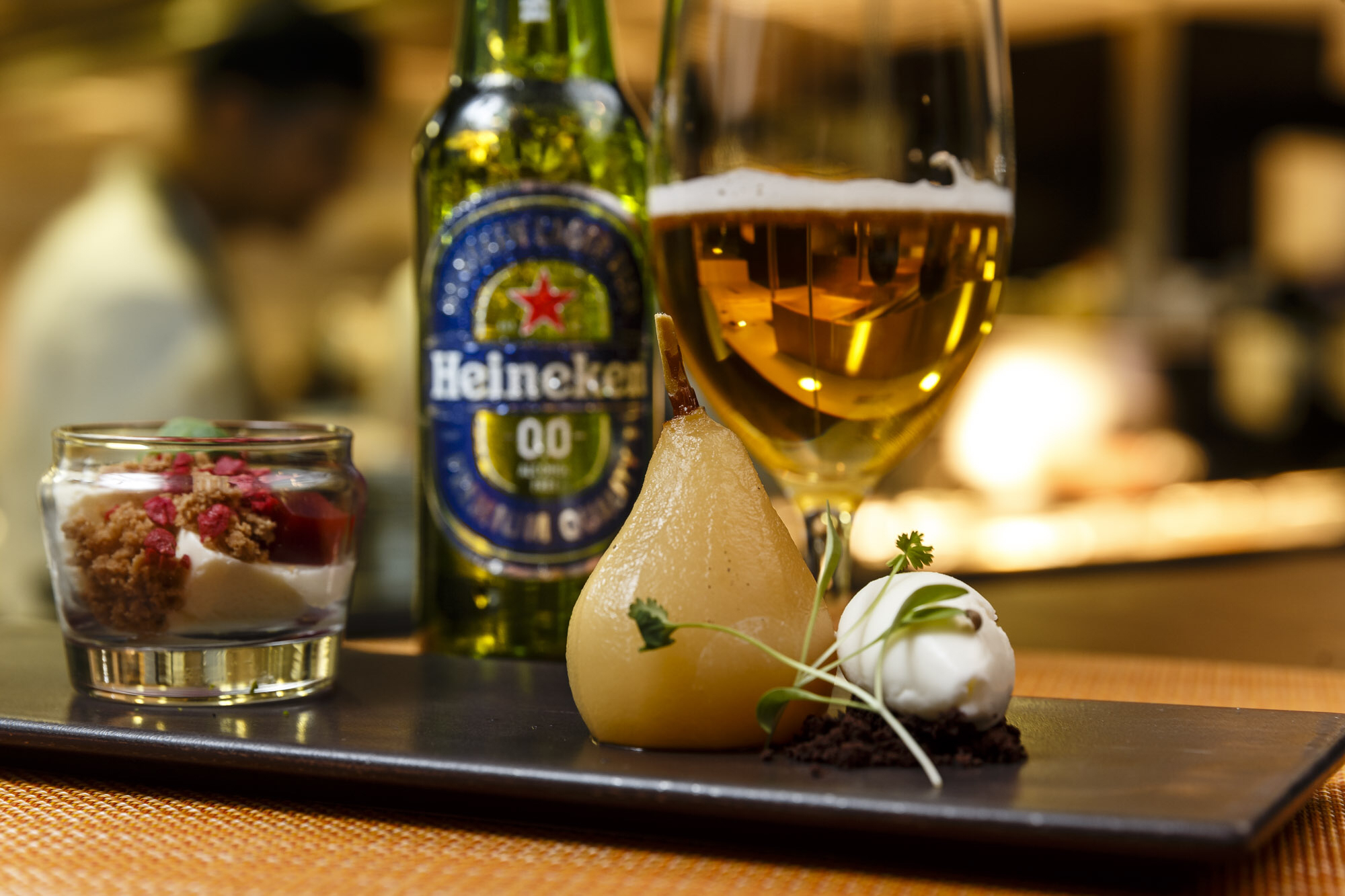 Dessert Recipe & Ingredients
Heineken® 0.0 poached pears
2 mini william pears (or half a pear per person)
2x bottles of Heineken® 0.0
80g honey
1 vanilla bean
Goan Delight
200g organic Yoghurt
100g granulated sugar
40ml rose water
200ml single cream
Method
1. To make the bhapa doi, preheat a steamer to 100°C. Whisk all the ingredients together in a large mixing bowl then pour the mixture into a container. Seal tightly with cling film or a lid.
2. Place the container on a tray and cook in the steamer for 25 minutes or until set. Remove from the steamer and chill for at least 2 hours.
3. For the pears, peel and place vanilla bean and honey in Heineken 0.0 and poach until they are soft and tender (7-8 minutes).
4. To serve, add scoops of the bhapa doi to a serving glass and garnish with some ground pistachios, with a little gold leaf for extra wow-factor.